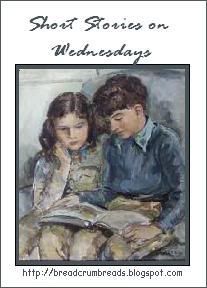 Short Stories on Wednesdays is a weekly event hosted here, at Breadcrumb Reads. The purpose of this event is to encourage people to read at least one short story a week. There are no limits, of course! If you have made a post on the short stories you've read this week, please do leave a link in the comments section. If you haven't made a post, it does not matter. I'd still love to know what you've been reading. Just put the titles down in the comments section.
Just a couple of announcements to those of you participating in today's meme.

1. Please leave your links in the comments section this week while I figure out the best linking method for this blog.

2. Java script does not work on WordPress so I'm not able to provide a link to this image. I would request you to please 'manually' link back to this blog either via image or text. Thank you!
Today, I decided for my short story reading I would look to the internet for something random. I figured I'd try something new by writers I haven't heard of, and most likely contemporary. I came across two stories that were so very similar, though I did not know until I'd read them both. They were both dark and despondent.
"The Star" by Esther Claise
This was a very short story of only 3 pages. It's a story written in the second person, of a music star who seen the world, literally, coming to an end. She isn't able to handle the fact, and thinks that by clinging on to her tangible items of wealth and fame she would escape destruction from radiation and the likes, spreading rapidly through the states of the U.S.. I think this story especially captured my interest as I am, currently, reading and listening to sermon based on the Book of Revelations.  The story drives home the point (at least to me) that fame, stardom, wealth, anything tangible can mean nothing in a dying world. The story in point was not particularly brilliant, and I don't know that I'm a fan of anything written in the second person, but it was good enough in itself. You can find the online text
here
.
"The Brass Teapot" by Tim Macy
Okay. Now I would really suggest you folks give this one a try. It was a really creepy story – not obtrusively creepy, but creepy in its deterioration of its main characters and their relationship(s) over the most basic evil in the world — money.
A middle-aged couple, struggling to make ends meet while supporting their children who are in university, are trying to figure out how to pay for the tuition when they come across a strange old woman who gives the female protagonist of this story, a brass teapot. We quickly learn that this teapot is not an ordinary one, and in its extra-ordinariness it is bound to be a help to this weary couple. …Or is it not?
I must admit that the writer managed to keep me guessing right up until the final paragraphs as to how the phenomenon of the teapot and the struggle of the main characters would end. I wasn't expecting the end until I realised what a natural conclusion it really was.  I hesitate to write any more about this as anything else might give away the plot and/or the essence of it.  You can find the online text
here
.
So, then, what have you folk been reading this past week? Tried any new-to-you writers?