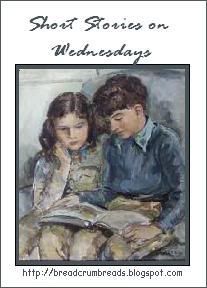 Short Stories on Wednesdays is a weekly event hosted here, at Breadcrumb Reads. The purpose of this event is to encourage people to read at least one short story a week. There are no limits, of course! If you have made a post on the short stories you've read this week, please do leave a link in the comments section. If you haven't made a post, it does not matter. I'd still love to know what you've been reading. Just put the titles down in the comments section.
————————————————————————
Before I begin I just want to apologise for the lack of a link-up post last week. I've already mentioned my reasons elsewhere, so I won't bore your to tears with them again.
This week I've finished a couple of stories from my copy of Classic Tales of Humour. In fact, with these two I've completed one of the many short story anthologies on my shelf – yay!
"A Slander" by Anton Chekov
This is my first Chekov short story ever. It is quite short and the story is very simple. Ahineev is holding a wedding dinner for his daughter, and he goes into the kitchen to check on the supper. He is in the middle of smacking his lips whilst admiring a delicious looking sturgeon when a guest walks in with the assumption that Ahineev has been kissing the cook! In his attempt to stop this guest from spreading such a rumour Ahineev decides to stem the tide of gossip by telling the story of how Vankin had mistaken his smacking his lips for his kissing the cook. The result of this is exactly what Ahineev had been attempting to avoid.
It was quite amusing and sad in a way. I think it's a reminder of how sometimes we can be our own worst enemy.
"Titbottom's Spectacles" by George William Curtis
This story is about 37 pages long in my book. I'm still puzzled as to why it has been ranked among humorous stories, though. I found it a rather melancholy and extremely thought-provoking piece.
The narrator is musing aloud to his friend, Titbottom, about a pretty, young neighbour of his whom the narrator judges to be a lovely person beneath all her riches and glamour. Titbottom is not convinced, and at dinner he tells the narrator and his wife all about a pair of glasses he had inherited from his grandfather. These glasses would show him the true nature of people as opposed to their external fronts. The power of these glasses soon become and obsession with Titbottom and bane. At the end he really is trying to say that people are most often not whom we think they are — in other words, don't judge a book by its cover! I also quite enjoyed reading Curtis' language; it was crisp and effective.
So then, what have you folk been reading this past week?