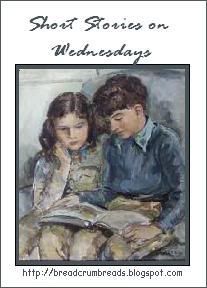 Short Stories on Wednesdays is a weekly event hosted here, at Breadcrumb Reads. The purpose of this event is to encourage people to read at least one short story a week. There are no limits, of course! If you have made a post on the short stories you've read this week, please do leave a link in the comments section. If you haven't made a post, it does not matter. I'd still love to know what you've been reading. Just put the titles down in the comments section.
————————————————————————
"A Modern Cinderella" by Louisa May Alcott
After having read Behind a Mask I was geared for quite a bit of satire by Alcott as I began this short story. I didn't bother to check the publication date, or my expectations would have been quite different. This story was reminiscent of the likes of Little Women and Jack and Jill — all gentle and sweet. Until about a couple of weeks ago this would not have surprised me…not from Louisa May Alcott. But goodness! Have you read of her character Jean Muir? One sees an echo of Jean Muir, or a character closer to home would be Jo March, in the second sister, Di (I'm assuming short for Diana?). But I've jumped ahead and left you folk in the dark.
To give you a brief summary — "A Modern Cinderella" is about a family consisting of a widower and his three daughters. The younger two are very accomplished you women. Di is an avid reader and spends hours and days lost in the other worlds of the classics. Laura is an artist who whiles away her time in front of an easel. Nan is the oldest, kind and gentle, self-sacrificing and cheerful. She spends her days looking after her family, taking the place of the mother they do not have. We are introduced to a character called John Lord who is obviously in love with Nan, but decides to give himself a year before he proposes to her. During the course of that one year, a sudden change comes upon the family and Di and Laura are forced to abandon their books and art respectively, and come to the aide of her beloved sister. At the end, all's well that ends well.
I felt, that right from the start, Alcott was being gently satirical, especially where the younger two sisters were concerned.
On Di:
Di, being tired of running, riding, climbing, and boating, decided at last to let her body rest and put her equally active mind through what classical collegians term "a course of sprouts." Having undertaken to read and know everything, she devoted herself to the task with great energy, going from Sue to Swedenborg with perfect impartiality, and having different authors as children have sundry distempers, being fractious while they lasted, but all the better for them when once over. Carlyle appeared like scarlet-fever, and raged violently for a time; for, being anything but a "passive bucket," Di became prophetic with Mahomet, belligerent with Cromwell, and made the French Revolution a veritable Reign of Terror to her family. Goethe and Schiller alternated like fever and ague; Mephistopheles became her hero, Joan of Arc her model, and she turned her black eyes red over Egmont and Wallenstein. A mild attack of Emerson followed, during which she was lost in a fog, and her sisters rejoiced inwardly when she emerged informing them that "The Sphinx was drowsy, Her wings were furled." Poor Di was floundering slowly to her proper place; but she splashed up a good deal of foam by getting out of her depth, and rather exhausted herself by trying to drink the ocean dry.

Alcott, Louisa May. A Modern Cinderella (Kindle Locations 299-308). manybooks.net.
On Laura while waiting for her love:
The lovers listened, owned the truth of the old man's words, bewailed their fate, and yielded,– Laura for love of her father, Philip for love of her. He went away to build a firm foundation for his castle in the air, and Laura retired into an invisible convent, where she cast off the world, and regarded her sympathizing sisters throug a grate of superior knowledge and unsharable grief. Like a devout nun, she worshipped "St. Philip," and firmly believed in his miraculous powers. She fancied that her woes set her apart from common cares, and slowly fell into a dreamy state, professing no interest in any mundane matter, but the art that first attacted Philip. Crayons, bread-crusts, and gray paper became glorified in Laura's eyes; and her one pleasure was to sit pale and still before her easel, day after day, filling her portfolios with the faces he had once admired. Her sisters observed that every Bacchus, Piping Faun, or Dying Gladiator bore some likeness to a comely countenance that heathen god or hero never owned; and seeing this, they privately rejoiced that she had found such solace for her grief.

Alcott, Louisa May. A Modern Cinderella (Kindle Locations 315-322). manybooks.net.
Both these passages gave me a fit of the chuckles, especially the one on Laura. It also struck me how much writing, reading and art seem to come into play in Alcott's writings. While Di sounded suspiciously like Alcott, I wondered if Laura was also another side to Alcott, or if she was someone she knew…another sister perhaps? Laura reminds me a great deal of Amy March, while Di reminds me of Jo. Nan is very reminiscent of Beth. I wonder if Alcott had a sister like Beth/Nan? — these two are characters that are greatly loved and admired by the rest of the family.
Anyway, this was an absolute pleasure to read. I cannot say that I was disappointed this wasn't another Jean Muir-like story, for it had mind pondering other things — that's something I like to do while reading.
You can read this story online here.
So then, what short stories have you folk been reading this past week?